Our Mission
Improper eating habits have impacted our communities with diseases such as multiple sclerosis, cancer, diabetes, heart disease and others. Our mission is to promote and support healthy eating and physical activities in the lives of all individuals. Our mission is to also host and support causes with fundraisers, education, events and donations.
About Me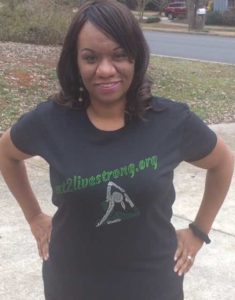 I am a 48-year-old woman who was diagnosed with multiple sclerosis in 2013. Multiple sclerosis is an unpredictable, often disabling disease of the central nervous system. There are four known stages of multiple sclerosis Clinically Isolated Syndrome (CIS), Relapsing-Remitting MS (RRMS), Primary-Progressive MS (PPMS), and Secondary-Progressive MS (SPMS). My diagnosis was RRMS and the MRI displayed lesions that are on my brain and spinal cord.  Currently there is no cure for MS therefore healthy eating, exercise, prayer, and the approved treatments is my lifeline. Although I am controlling my MS I can at any given moment encounter what is known as a exacerbation AKA relapse or flare-ups. The stages of flare-ups have episodes of acute worsening symptoms of neurologic functions. The diagnosis of the MonSter ( MS)  drastically changed the direction of my life and career goals. I went from a nursing student to a disease fighter and now I am on a mission to decrease the number of humans that are at risk of developing the worldly incurable diseases.
Our organization is structured to education, support and share knowledge that is helpful to our communities. We have spent numerous hours, days and years researching MS along with many other incurable diseases. Along the way we discovered that one common denomenator that appeared in the majority of the critical disases and that is the food we eat. The various types of food we eat as well as the consumption amount of foods has impacted our communities in a negative way and it is leading our population into the danger zone.  Where and how does eat2livestrong.org fit into the equation, that's easy, I was a prime candidate with my poor eating habits, lack of exercise, stress, low self esteem and a average of 3 hours of sleep per night. Our goal is to assist people build confidence, achieve their weight goals, become efficient with their daily life, form healthy eating habits, and share their experiences with others. We will reach out to the communities and offer support to many different causes all while continuing to learn and grow. 
 Welcome aboard and if you have any questions please feel free to contact us  
Our Actions Speaks Volume
Photo Gallery
Praise
Hoop-A-Thon: U go girl! Count me in!!!!! 😊☺️
Jillian
Aww…. Shelly! I love it! I am going to purchase a hula hoop, send me the web info! Looks Like so much fun. Thanks for the love and concern ♥️😘💪🏾

Hoop-A-Thon Challenge
Cicely
You're so amazing! Such a blessing to have you in my circle.

"Hooping For Our Life-" The Hoop-A-Thon Challenge
Tabbitha
Hoop-A-Thon: U go girl! Count me in!!!!! 😊☺️
Jillian
Aww…. Shelly! I love it! I am going to purchase a hula hoop, send me the web info! Looks Like so much fun. Thanks for the love and concern ♥️😘💪🏾

Hoop-A-Thon Challenge
Cicely
You're so amazing! Such a blessing to have you in my circle.

"Hooping For Our Life-" The Hoop-A-Thon Challenge
Tabbitha