Spinach Feta Breakfast Buritto
Ingredients
1 large whole-wheat tortilla
1 1/2 teaspoons of virgin coconut oil
1 cup chopped organic baby spinach leaves
1 oil-packed sun-dried tomato, chopped or your favorite salsa
2 eggs beaten (you can also use egg white)
1/3 cup of feta cheese
1 small tomato
Preparation
Warm tortilla in a large skillet over medium heat.
Melt coconut oil in a separate skillet over medium-high heat. Saute spinach and tomato in hot oil until spinach wilts, about 1 minute. Add eggs and scramble until almost set, about 2 minutes. Sprinkle feta cheese over eggs and continue cooking until cheese melts, about 1 minute more.
Transfer scrambled egg mixture to warm tortilla in the large skillet; top with diced tomato. Roll tortilla and leave in skillet long enough for wrap to hold its shape, about 30 seconds.
Be creative you can add avocado or mushrooms which make a really tasty breakfast burrito (keep in mind that the time and calorie can will change).
Ready in 15 minutes and 232 calories
Five-Spice Turkey & Lettuce Wraps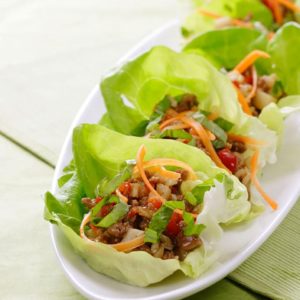 Ingredients
1/2 cup water
1/2 cup of instant brown rice
2 teaspoons sesame oil
1 pound 93% lean ground turkey
1 tablespoon minced fresh ginger
1 large red bell pepper, finely diced
1 8 oz can water chestnuts, rinsed and chopped
1/2 cup of reduced sodium chicken broth
2 tablespoons hoisin sauce
1 teaspoon five-spice powder
1/2 teaspoon salt
2 heads of Boston lettuce, leaves separated
1/2 cup chopped fresh herb such as cilantro, basil, mint, and or chives
1 large carrot, shredded
Preparation
Bring water to a boil in a small saucepan. Add rice; reduce heat to low, cover and cook for 5 minutes. Remove from the heat.
Meanwhile, heat oil in a large nonstick pan over medium-high heat. Add turkey and ginger; cook, crumbling with a wooden spoon, until the turkey is cooked through, about 6 minutes. Stir in the cooked rice, bell pepper, water chestnuts, broth, hoisin sauce, five-spice powder and salt; cook until heated through, about 1 minute.
To serve, divide lettuce leaves among plates, spoon some of the turkey mixture into each leaf, top with herbs and carrot and roll into wraps.
Ready in 30 minutes with an estimated number of calories of 276
Cinnamon Vanilla Granola
Ingredients
3 cups old-fashioned oats
2 cups quick oats
1 cup chopped pecans (or sliced almonds or sunflower seeds)
1/2 cup toasted wheat germ
1/4 cup maple syrup
2 tablespoons Mazola® Corn Oil
2 tablespoons pure vanilla extract
4 teaspoons ground Saigon cinnamon
1/2 teaspoon ground nutmeg
1 cup dried cranberries (or raisins or other dried fruit)
Preparation
Combine old fashioned oats, quick oats, pecans and wheat germ in a large bowl. Combine maple syrup, oil, vanilla, cinnamon and nutmeg in a small bowl. Pour over oat mixture, stirring to coat. Spread mixture evenly on greased baking sheet.
Bake at 300 degrees F for 50 to 60 minutes, stirring every 15 minutes, until oats are toasted.
Remove from oven and stir in dried fruit. Cool in pan on wire rack. Store in airtight container.
Serving suggestion: To make yogurt parfaits, layer 6 ounces vanilla yogurt, 1/2 cup mixed fresh or frozen fruit and 1/4 cup granola.
Parmesan Pepper Curly Kale Chips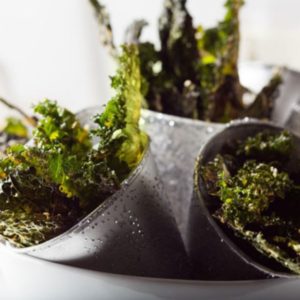 Ingredients
3 pounds curly kale 
4 tablespoons olive oil, divided
8 tablespoons finely grated Parmigiano-Reggiano, divided
2 teaspoons freshly ground black pepper, divided
Fine sea salt, divided
Special equipment: 2 very large bowls; 2 large (half-sheet 18- by 13-inch) rimmed sheet pans; parchment paper or nonstick foil
Preparation
Heat oven to 275°F with racks in upper and lower thirds.
Line rimmed sheet pans with parchment or nonstick foil.
Cut out and discard stems and center ribs from kale. Aim for 32 cups of leaves (use a 1- or 2-quart glass measure and pack leaves without crushing them). Wash leaves and dry well.
Transfer half of kale to a large bowl. Toss with half of oil, rubbing leaves to make sure they are well coated, then toss with half of parmesan, pepper, and salt. Once the first half is in the oven, repeat with the other half of the kale.
Working in batches, spread leaves in a single layer on lined sheet pans and bake, switching positions of sheets halfway through, until crisp, about 25 minutes. Transfer crisps with a metal spatula to baking sheets or platters to cool. Reuse parchment or foil for successive batches.
Basil Pine-Nut Pesto Pasta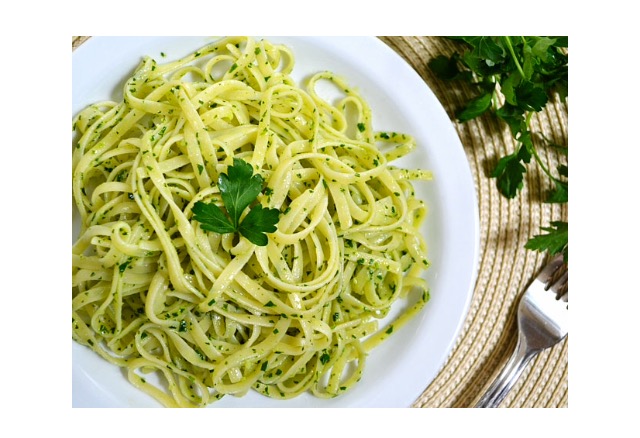 Ingredients
2 cups of fresh basil leaves
1 cup of rinsed pine nuts
2 cloves of garlic
1/2 cup of organic olive oil
1 tablespoon lemon juice
1/2 cup of cashew, almond, or soy milk
2 teaspoons of Bill's Best or McKay's Chicken-style seasoning (you may use your own blend of seasoning)
1/4 teaspoons of Himalayan salt or salt to taste
1/2 cup of vegan parmesan cheese or regular parmesan cheese
Preparation
In the blender combine all ingredients except the basil leaves. Mix the ingredients until the texture is smooth and creamy, then add the basil and let it chop for about 1 minute.
Boil 1 box of your favorite type pasta. Drain the water from the pasta once it is tender. Your pasta is now ready to meet the creamy basil sauce.
You may also add sautéed vegetables such as broccoli, bell pepper, mushrooms, and onions.
You may also add sautéed shrimp or chicken or turn this meal into a spicy feast by adding both shrimp, chicken and andouille sausage  to make this a cajun affair.
Salmon in Parchment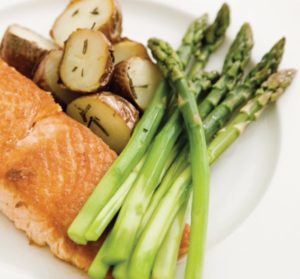 Ingredients
Parchment paper
2 teaspoons organic extra virgin olive oil
6 small potatoes ( recommend a small sweet potato or Quinoa)
10 spears of asparagus
2 (8 oz) skinless boneless center cut salmon fillets (I recommend wild-caught)
Salt and pepper to taste
Preparation
Preheat oven to 400 degrees F (200 degrees C).

Take two pieces of parchment paper, fold in half, and cut a half-circle starting at each crease. They should look similar to a heart-shape when unfolded. Coat each piece of parchment with olive oil on both sides.

Place potatoes in a saucepan and cover with salted water; bring to a boil. Reduce heat to medium-low and simmer until tender, about 20 minutes. Drain.

Bring a pot of lightly salted water to a boil. Add asparagus, and cook uncovered until slightly tender, about 5 minutes. Drain in a colander, then immediately immerse in ice water for several minutes until cold to stop the cooking process. Once the asparagus is cold, drain well, and set aside.

Place 1 salmon fillet, half the asparagus, and half the potatoes in the middle of one side of a prepared parchment paper. Sprinkle with salt and pepper and drizzle with extra-virgin olive oil. Fold other half of circle over and seal parchment edge by making overlapping folds around the edge. At the end, fold the last crease in the opposite direction of the rest to ensure it seals. Repeat with the second piece of prepared parchment and remaining ingredients. Place pouches on a baking sheet.

Bake in the preheated oven for 15 minutes. Remove from oven and allow to sit for 5 minutes before cutting open parchment. The salmon is done when it flakes easily with a fork.
Fruit Parfait
Indigredients
2 Pounds fresh strawberries
1 pound fresh blueberries
3 kiwi
1/2 cup turbinado
1 can pineapple (drained and set aside the juice)
1 pack of Mori-Nu Lite tofu (extra firm)
1 pack of Mori-Nu tofu vanilla pudding mix  or vanilla jello instant cold pudding mix in small box (about 6.6 oz)
1 8oz pack of Tofutti Better than cream cheese (set in the refridgerator overnight)
1 box granole or your favorite granola
Non-dairy whipped topping lite (optional)
Preparation
Slice blueberries in half, dice strawberries, peel and dice kiwi.
Place cut fruit in a bowl and add turbinado sugar. Mixed well, cover and set aside.
Blend tofu and pudding mix and pineapple juice in the blender until smooth and creamy.
Add cream cheese  to the pudding mixture and blend well.
In a dessert cup, alternate layers of pudding, granola and fruit.
After final layer, top with the desired amount of whipped topping.